THERMOGRAPHY OF MODULES AND PHOTOVOLTAIC PLANTS WITH DRONE

We are able to offer the aerial thermography service with high resolution drone for easy identification of photovoltaic modules affected by hot-spots caused by defects or breakage of some cells of the same module. The analysis with infrared camera is becoming increasingly important in the field of technical checks on photovoltaic systems. But what can be detected through this analysis of photovoltaic modules? When a cell does not work or generates energy because it is not receiving solar radiation, it may be inversely polarized. It will therefore behave as if it were charging rather than a generator, which could result in a high heat dissipation. This situation is easily identifiable with the use of a thermal imager and takes the name of Hot Spot.
The service offered includes:

- Thermographic analysis of the whole field
- Mapping of faulty modules on the system layout with Hot-Spot and serial module signaling
- Technical report with detailed high resolution thermography of the faulty modules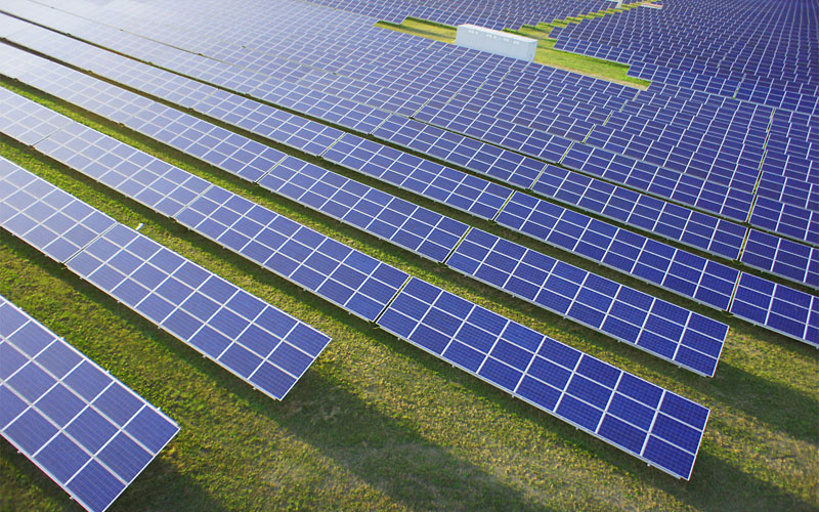 Fast, reliable and detailed, the thermography with drone allows an economic and accurate analysis of the status of your photovoltaic system. Our staff is highly qualified and equipped with the necessary authorizations / approvals on the fly.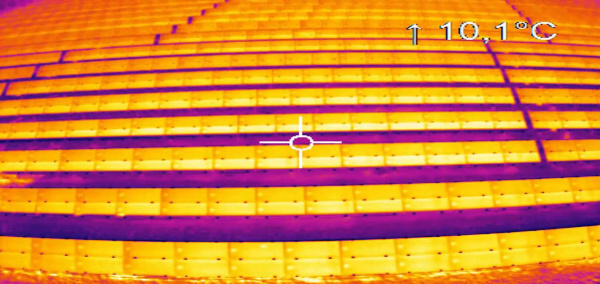 Remember how hot-spot phenomena can arise from different causes. Such as micro fractures of photovoltaic cells, phenomena of PID degradation (Potential Induced Degradation), broken connection between cells and more. For a more in-depth analysis of the problem, once the hot spot has been detected, our studio is able to offer advanced inspection measurement services such as the curve of the IV curve of the module or of the string of modules and above all the electroluminescence of modules and strings in the field, without the need to dismantle and ship photovoltaic modules in specialized laboratories, with enormous time savings and drastic reduction of measurement costs.
To complete the thermographic analysis, the thermographic detail of the defective modules is then carried out, in high resolution with FLIR - MSX technology for a better definition of the defects found.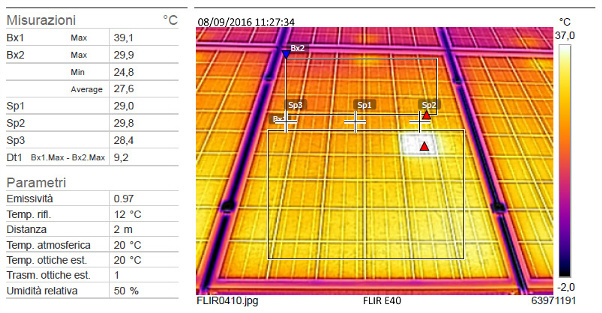 Our activity produces, therefore, both the air inspection report for the identification of the photovoltaic modules that present thermal defects and a high definition thermograph from the ground for the in-depth analysis of the problem encountered.

CONTACT US FOR TECHNICAL ANALYSIS OF YOUR PHOTOVOLTAIC PLANT

We are available for individuals and installers for technical inspection and expertise also for legal disputes use.
Contact us info@st-ingegneria.com