INSULATION RESISTANCE TESTS ON PHOTOVOLTAIC MODULES AND STRINGS

Each photovoltaic system has a potential different from the earth before the connection to the network and during the input process. Only adequate insulation with respect to the earth prevents the currents coming from the photovoltaic system from spilling to the ground, excluding the danger in case of contact and further losses. The total earth leakage current, also called leakage current, is the sum of the dispersion values ​​of the individual system components:
• Photovoltaic modules
• DC cable
• Inverter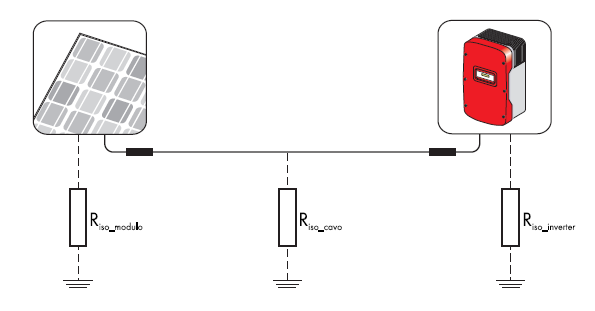 The purpose of this measure is to perform insulation resistance measurements of the active conductors of a module, a string, an entire PV field and any metal masses that are not earthed in accordance with the provisions of the Guide CEI 82-25 and of the CEI 64-8 and IEC / EN62446 regulations.

It is easy to understand how a good insulation resistance related to photovoltaic modules (please note that the CEI 64-8 standard sets a minimum insulation value of 1 MOhm with test voltages of 500V or 1000V DC) and a bad insulation of DC conductors in the stretch photovoltaic modules - inverter, leads to a malfunction of the same with consequent loss of energy production.

It will therefore be necessary to ensure that the insulation is verified both on the photovoltaic modules and along the entire line of DC line up to the DC / AC inverter.
The types of measurements that can be made for verification are basically of three different types:
PHOTOVOLTAIC FIELD

mode: used for the insulation resistance measurement of a PV field (photovoltaic generator) made up of one or more parallel connected strings. The measurement is carried out on the Positive and Negative poles of the PV field





METAL MASS

mode: the measurement is performed on the "P" (positive) terminal only, displaying the minimum value obtained from the resistance at the end of the measurement period. It can be used for the insulation resistance measurement of several metal masses not connected to ground references





MODULE / STRING

mode: used for insulation measurement only on single modules or individual PV strings, automatically performing a short circuit between the Positive and Negative poles and realizing the measurement between this short-circuit point and the installation ground reference



CONTACT US FOR TECHNICAL ANALYSIS OF YOUR PHOTOVOLTAIC PLANT

We are available for individuals and installers for technical inspection and expertise also for legal disputes use.
Contact us info@st-ingegneria.com